Book: Killer
Series: A Twisted Sister Novel #3
Author: Lacy LeRoch
Synopsis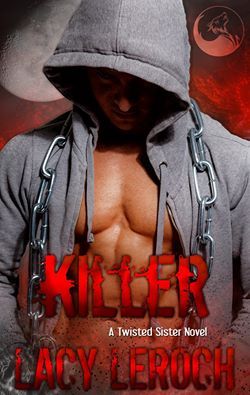 Jordance Monic is a brutal killer, one of the best for the Judadic Council. He's sent out to hunt down Lucas, and take him out at all costs. Philli and Madison are depending on him to take care of this target, then start hunting down her missing child. Jordance is a wolf of his word. He acts swiftly and without thought or feeling, and that makes him perfect for this mission.
But everything goes wrong the minute he sets his eyes on an unusual housemaid, with long black hair and bright yellow eyes. He finds himself drawn to her in a way no other has done before. None of the females from his pack can quench his sudden desire for sex and love. Never has he thought about having a mate until now. Jordance knows he doesn't stand a chance with a girl like her, but he's willing to try. The only question is that she's hiding something and he knows it. The problem is, every time he gets close to finding out what's going on, his wolf tells him to back off.
Will Jordance be able to complete his mission, or will everything fall from a love he'll never be able to claim?
*Warning story contains light spanking, erotic sexual scenes, and violence.
**Not suitable for anyone under the age of 18.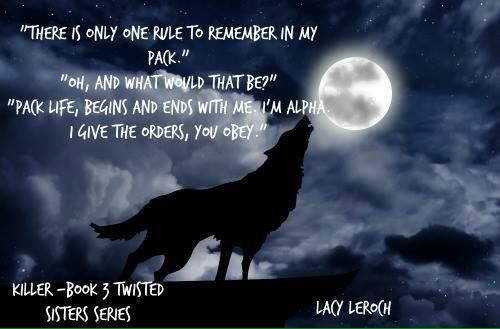 Purchase Links
ARC REVIEW OF KILLER
Jordi is the alpha of the wolf shifters in Devilice, his dominant and loves sex and has plenty of women at his beck and call, he has featured in both the previous books and I already liked him before starting this book.
Athena runs into Jordi when he is on a mission and he is smitten straight away, its not the total instant 'mate' you got with other books, but then again its only a few days! Athena is shy at the beginning but slowly she comes out of herself, she has no idea who she is - it's obvious to us who she is though and makes you excited to see how everyone will react when things come to light.
The back story running from book 1 is still running in this story but it's mainly about Jordi and Athena. It's fun watching Jordi go all soft and caring over Athena, while at the same time Athena gets stronger and bolder.
I love the interaction of all of the other characthers, they all share some fun banter.
There is one sexy M/M/F menage near the beginning, there is no cheating as such as Jordi and Athena have only met once.
I enjoyed all the different shifters in this book/series they all have different powers and abilities. The author makes sure you're kept on your toes with what the shifters get up to!
This is a page turner of a read and it's satisfying seeing Jordi get a mate of his own.
I will definitely be adding more books by this author to my TBR and waiting for the next book in this series.
Please if possible read book 1 and 2 first you will enjoy this book all the more.
4.5 stars
About The Author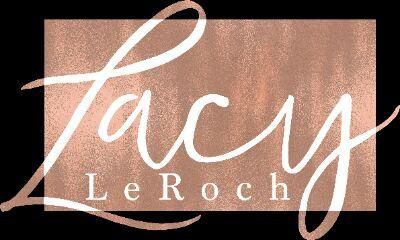 Lacy lives in Perth , Western Australia with her husband and children.
She has a real love for books and all things paranormal.
Lacy got started in the author world after she was a personal assistant for a couple of authors who pushed her to try her own hand at writing. Lacy is also a read, review , blogger and will read anything she can get her hands on.
Stalk Lacy Here: